Have a great summer everyone - we'll see you in August!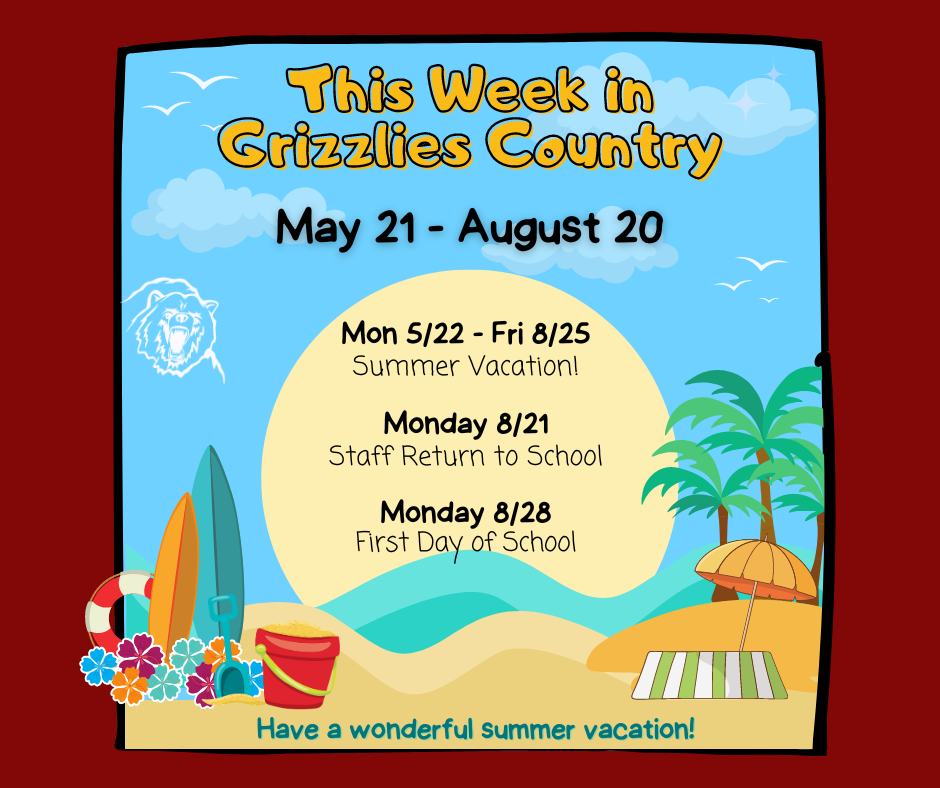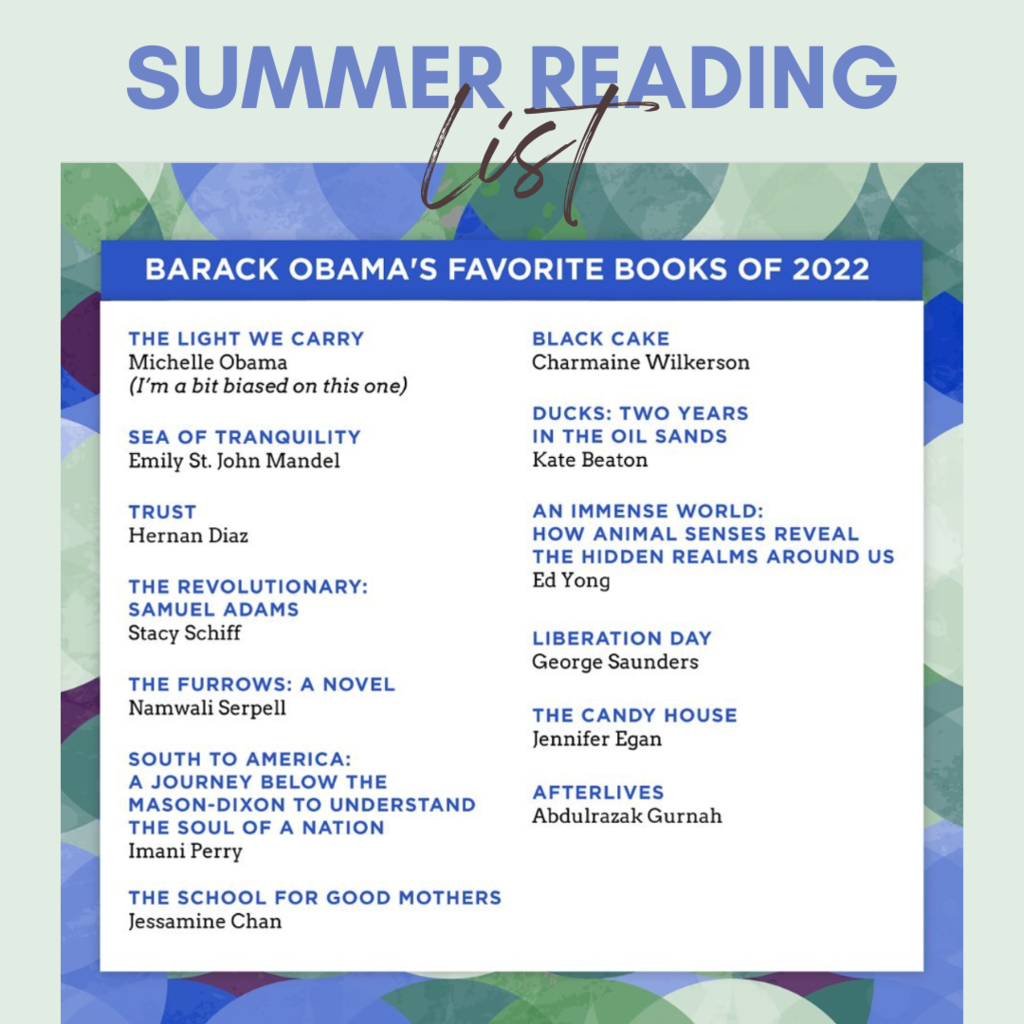 We've got new Grizzlies Gear for sale right now at the teacher sale in the gym. Come on down!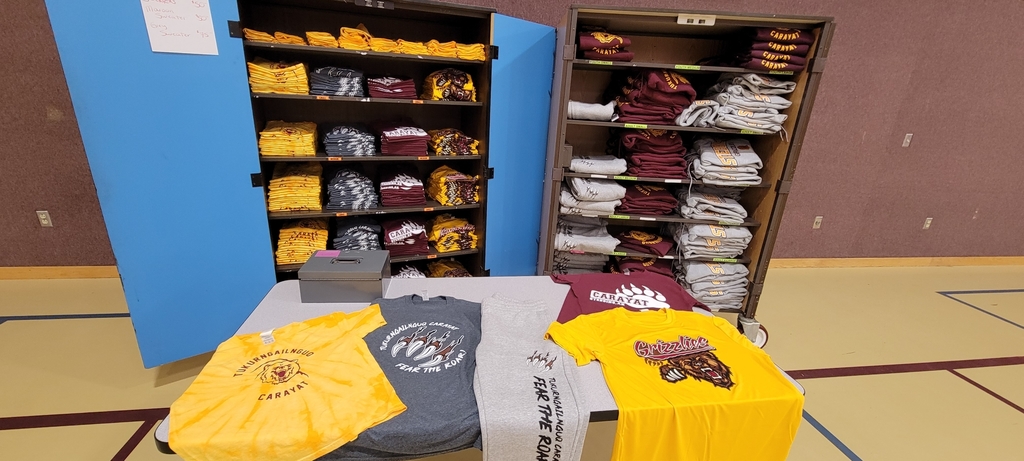 REMINDER -- Tonight is the BIG Teachers End-of-Year/Moving Sale. Come on down - there will be lots of clothes/shoes, housewares, food, and more! This sale is too big for the MPR so it will be in the gym! We open at 7:30 PM.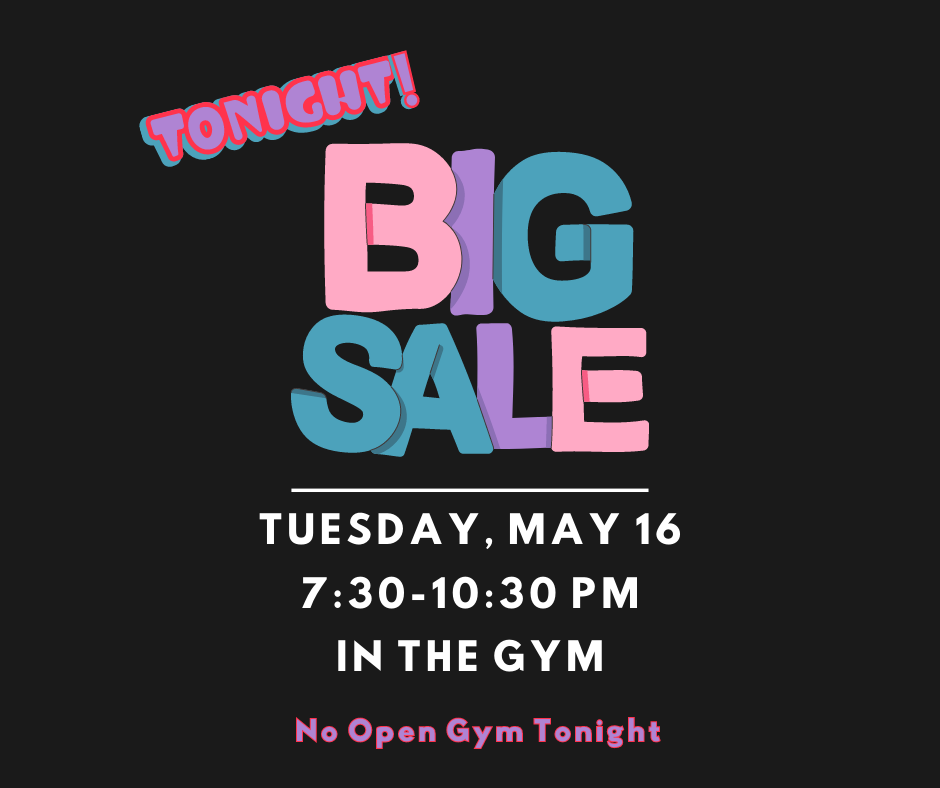 Student awards ceremony - please join us on Wednesday in the gym at 2PM.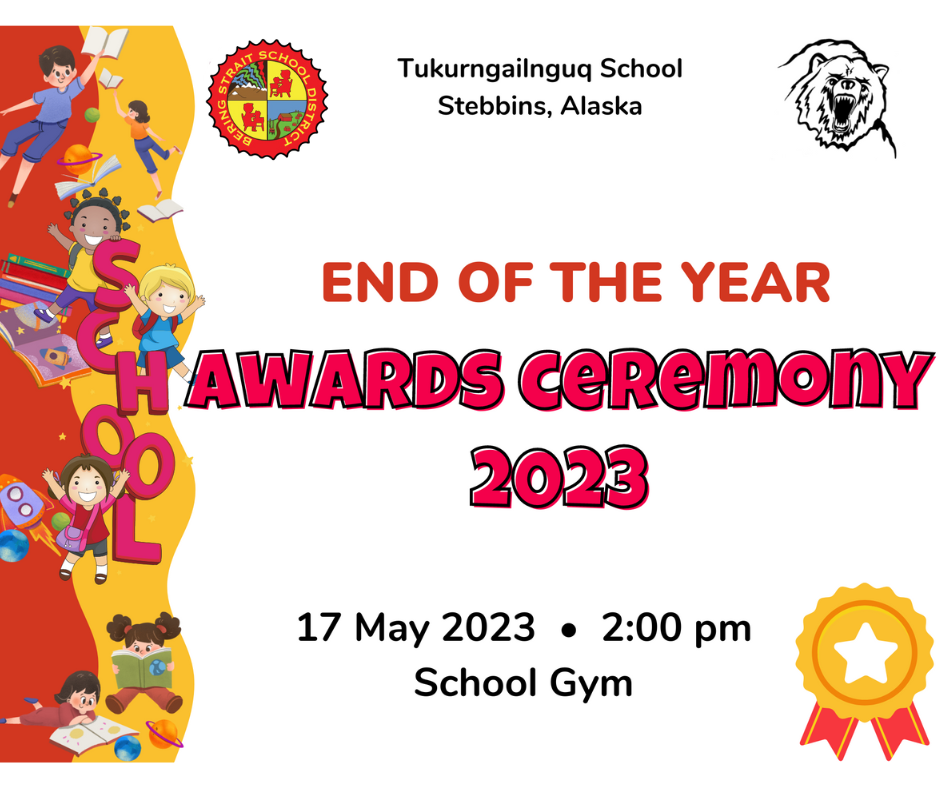 Join us in supporting the Educators Rising Alaska Stebbins Chapter's trip to Orlando, Florida for the National Conference and Competition! They will be selling food in the MPR after school from Monday to Friday, May 15-19. Our dedicated students have been working hard to prepare for this incredible opportunity to represent our community and showcase their skills in education. This trip will not only allow them to compete with other talented students from across the country, but it will also provide them with valuable learning experiences and networking opportunities. Every little bit helps, and your support can make a huge difference in the lives of these aspiring educators and leaders.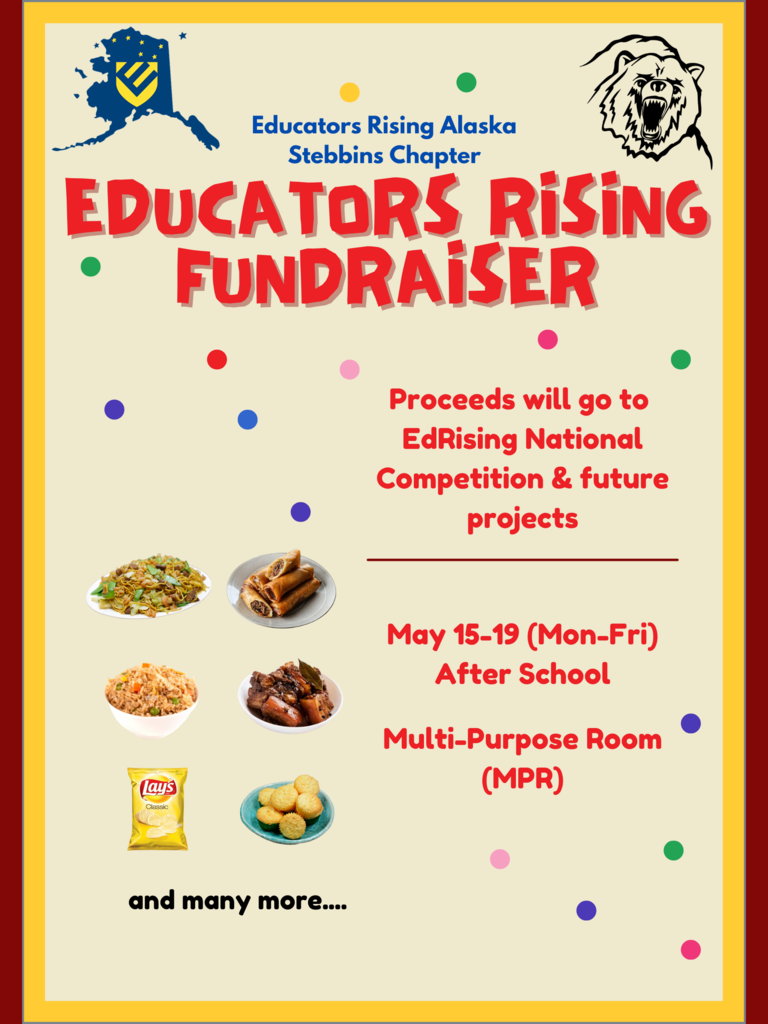 We have one more week to do school. Let's make positive memories to hold us over the summer!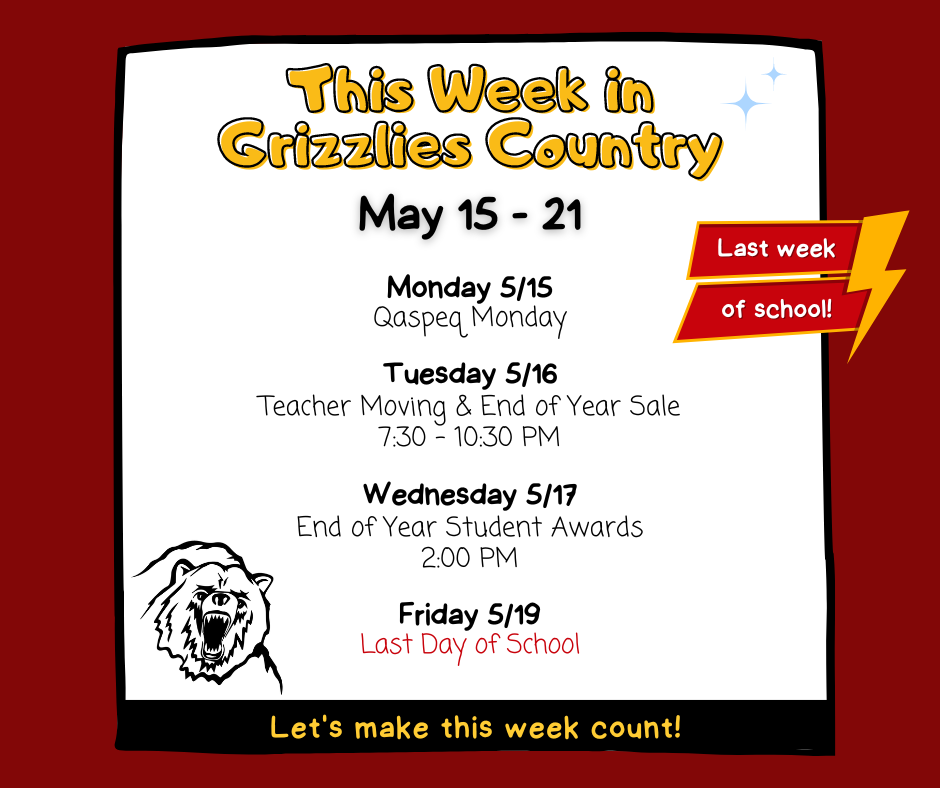 Please join me in congratulating the Tukurngailnguq Class of 2023! There is a world of potential in these young women, and I have high expectations for their futures.

We'd love to have the community fill the gym to the rafters for our final awards celebration of the year!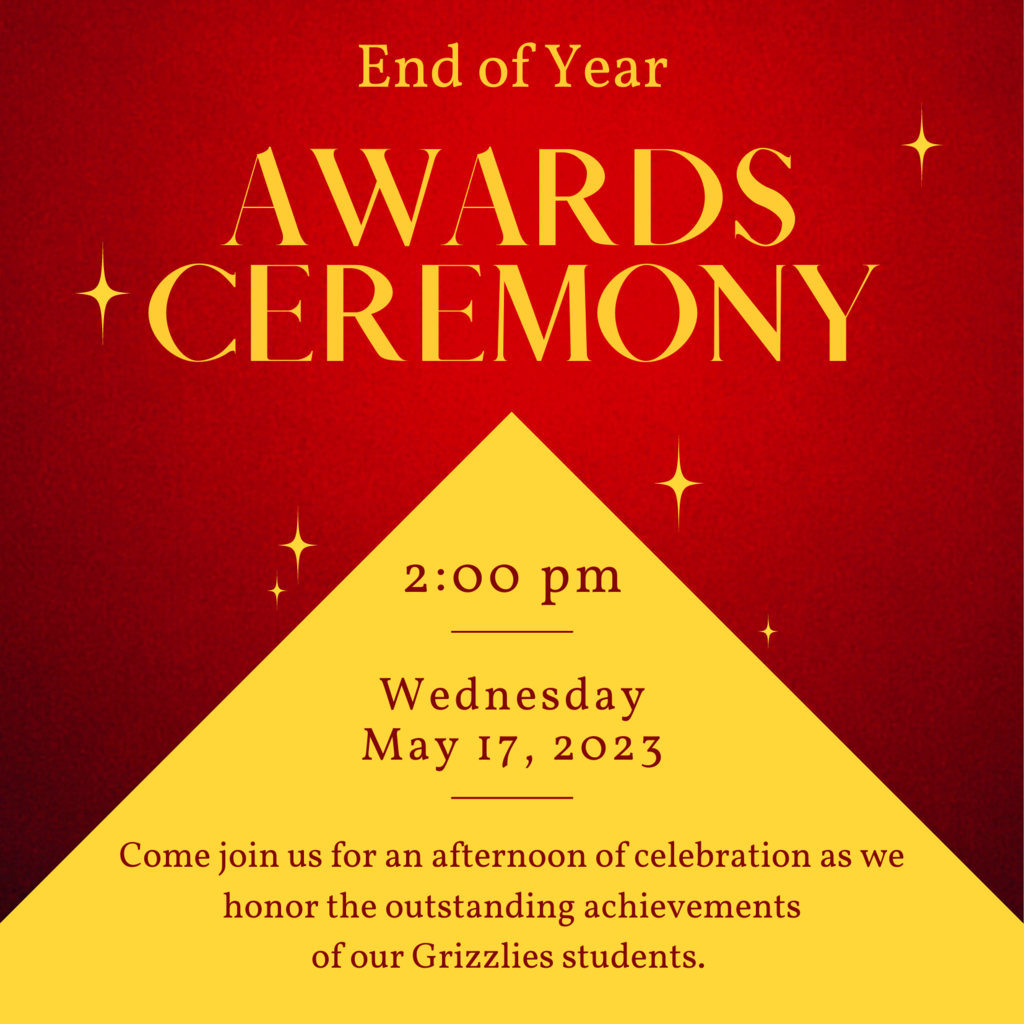 Please join us for our 2023 Graduation Ceremony this Saturday at 4:30 PM. Doors open at 4 o'clock.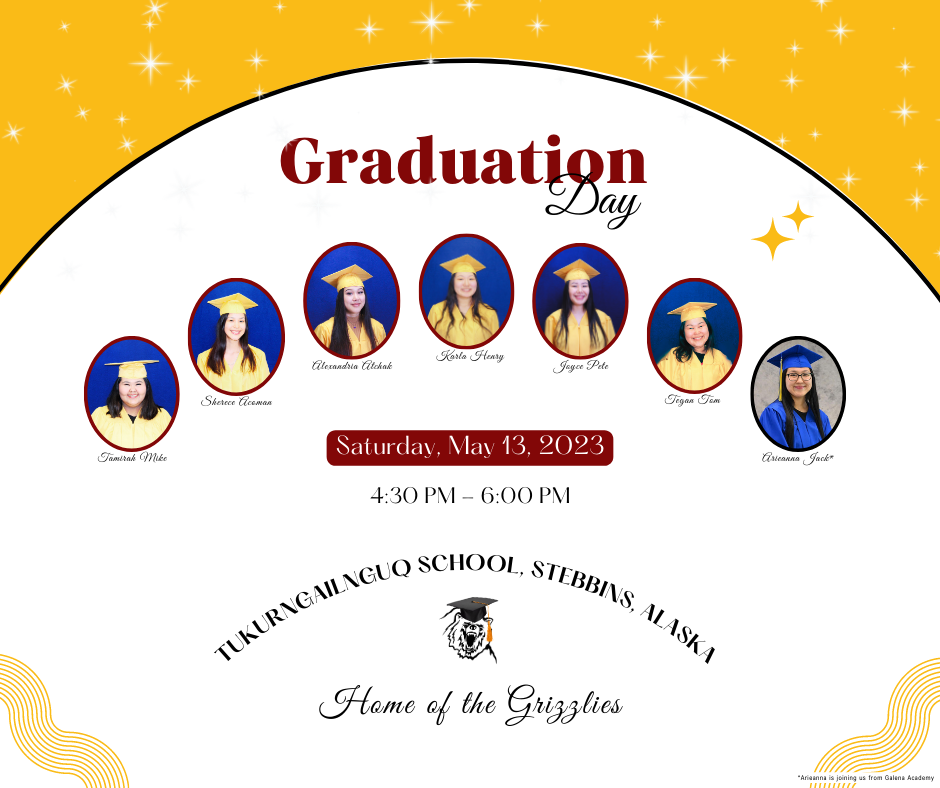 We're getting very close to the end of the year! Things to note: Students need to have any make-up work turned in by the end of the school day Friday, May 12. This is the last week for after school programs. Last day of school is May 19.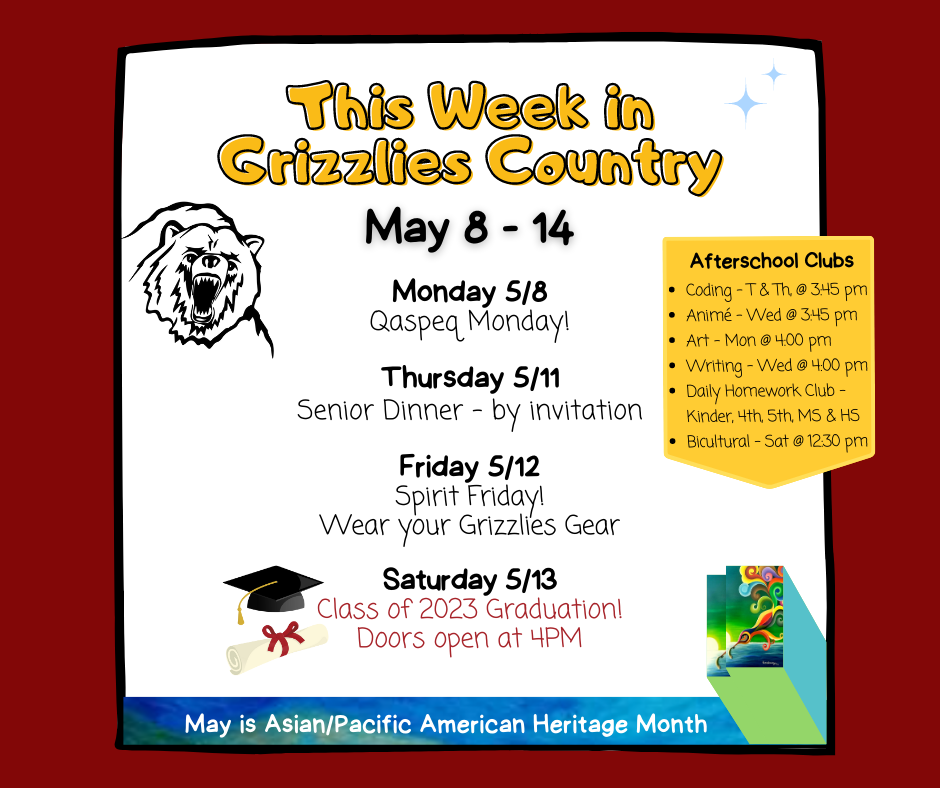 Looking forward to our first "post-COVID" Prom!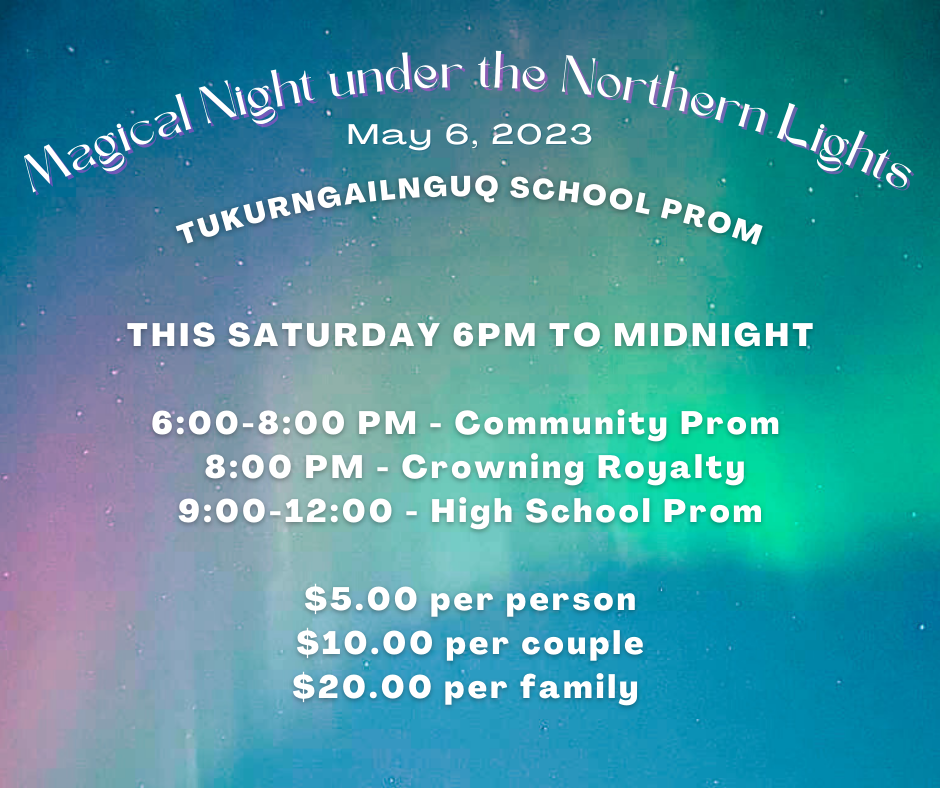 EARLY RELEASE ON FRIDAY - All students will be released at 1:00 PM this Friday, May 5 so staff can participate in a district-wide meeting.

Catch the spirit of Spirit Week - starting tomorrow, May 1! Don't forget Prom this Saturday, May 6. The community and all students are invited to join us from 6:00-8:30PM. After 9:00PM, we'll have HS Prom for grades 9-12 only.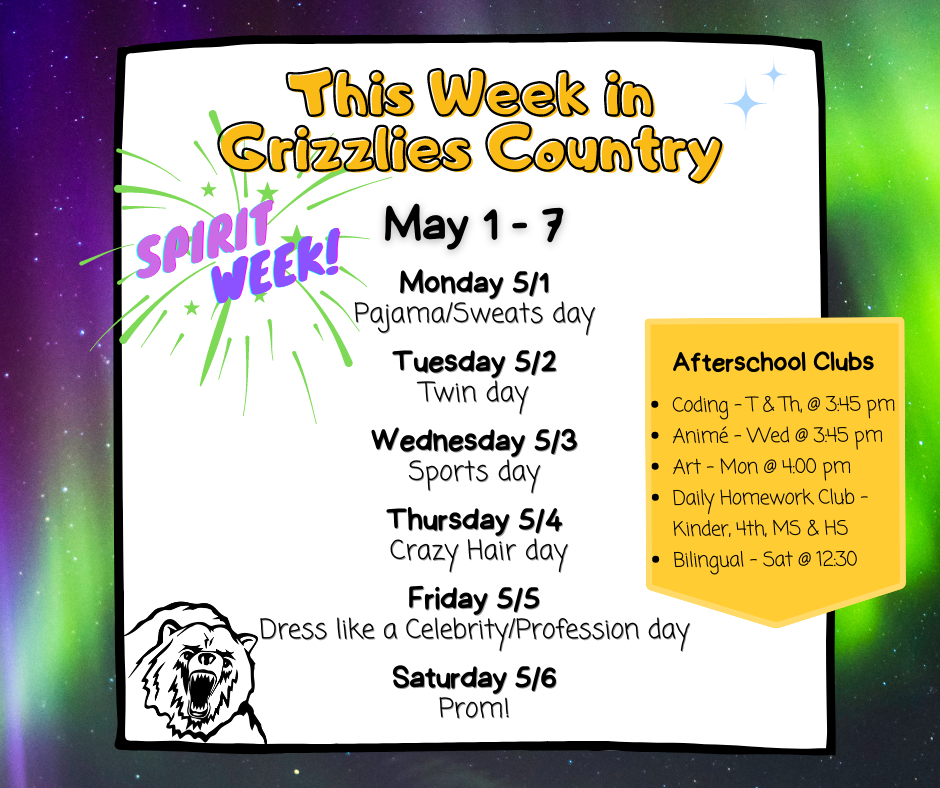 We have an exciting week coming up!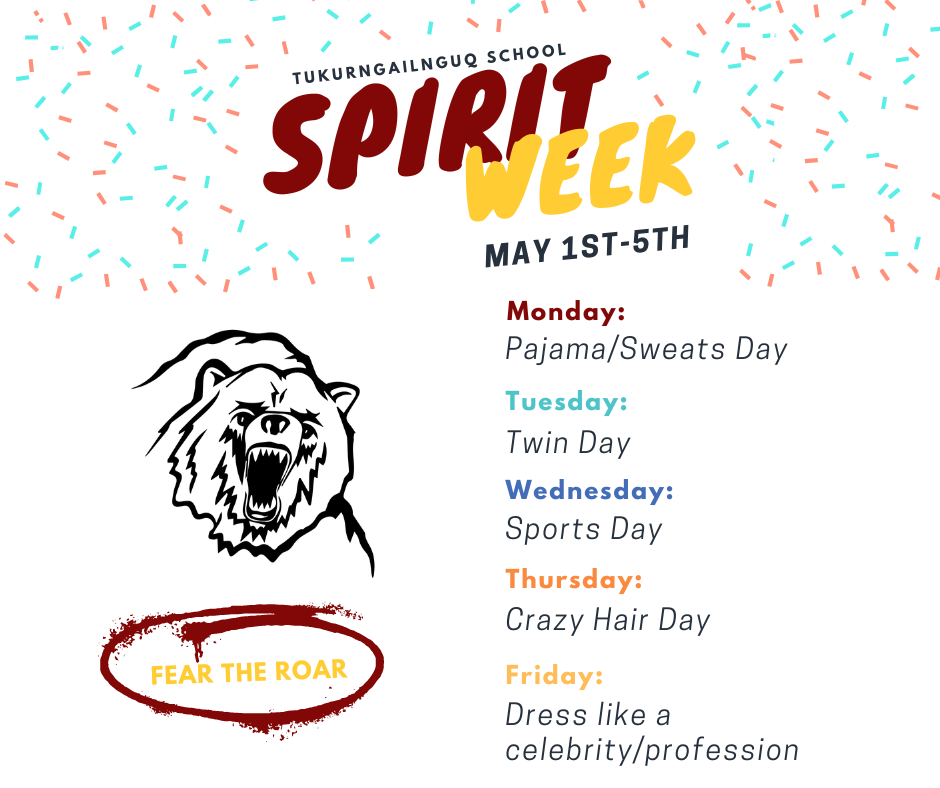 It's almost time for Prom! Students - follow the schedule below to borrow a prom outfit from school. Get ready to impress!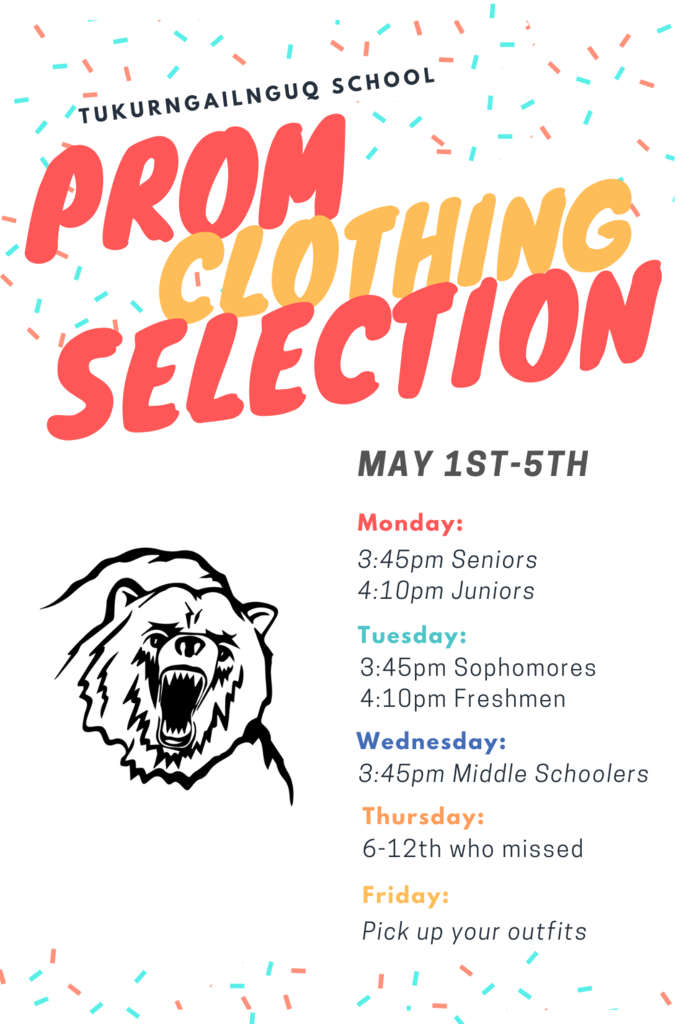 Ms. Sarah, school counselor, and 4th grader Mariam celebrate Qaspeq Monday.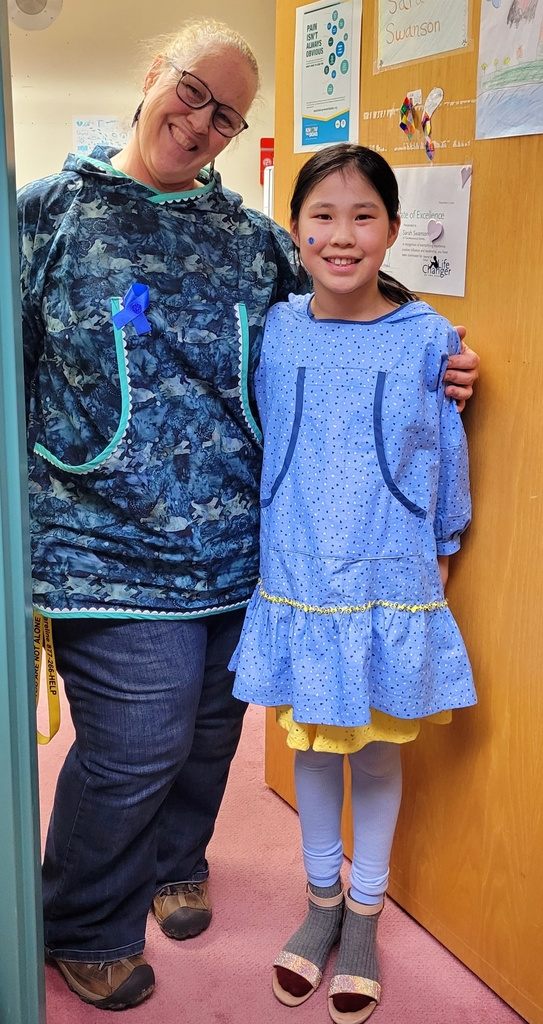 A quiet week in Grizzlies Country. Just right for catching up on schoolwork and getting ready for end of the year events!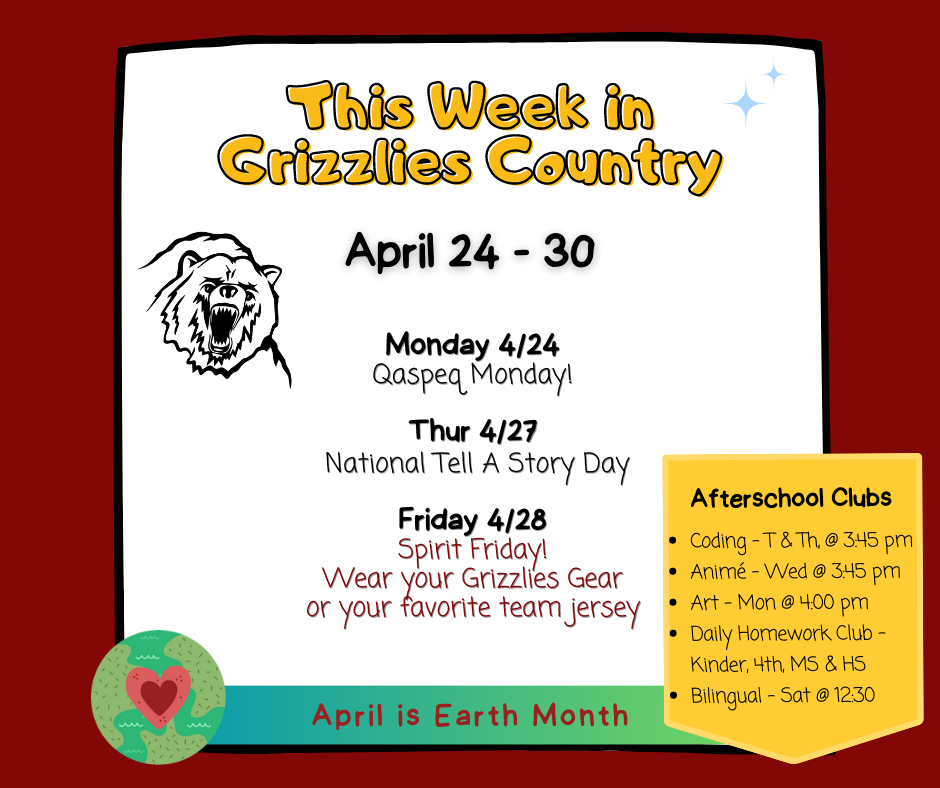 Another great day of Saturday School! Students spent time drumming, beading, catching up on studies, and in PE. We topped it off with a free blanket and clothing event. It was a big hit - we had every cafeteria table covered in free items. They're all gone now! Quyana!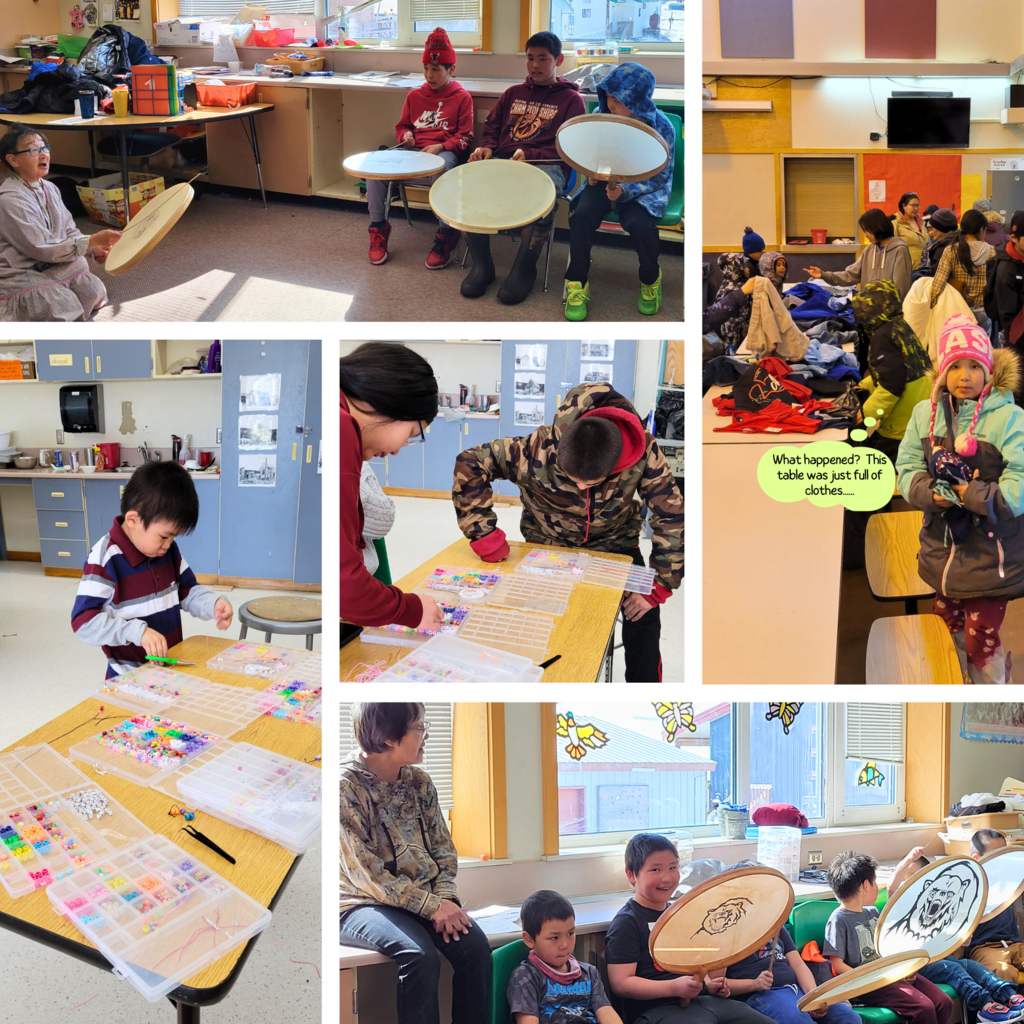 Saturday is Earth Day. Visit earthday.org for ways to celebrate and honor Earth.